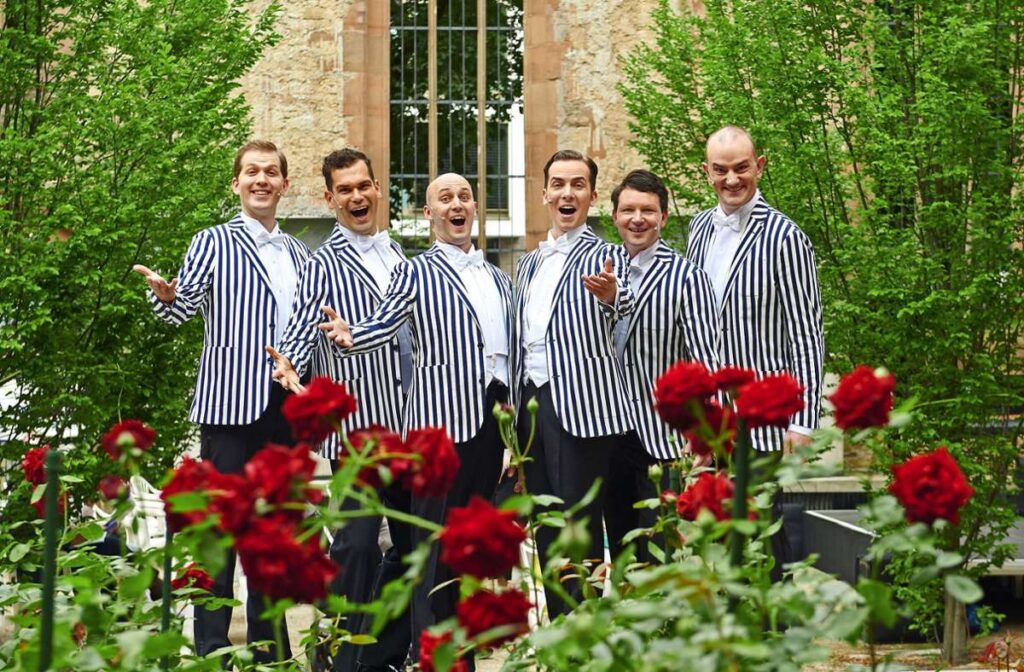 The Real Comedian Harmonists
1927 six young men conquered the world with their music: THE COMEDIAN HARMONISTS. More than 90 years later, in October 2019, six young men again gathered on the Stuttgart theatre stages, this time with a giant musical heritage, which they treated with great success.
In more than 50 sold out performances, THE COMEDIAN HARMONISTS' unforgettable qualities were brought back on stage by the new group: their characteristic sound, their voice acrobatics and a  great joy on stage.
The more than 23'000 audience, as well as media, where enthusiastic, so the group decided to carry on together after their successful first production.
Since then, the ensemble performs as THE REAL COMEDIAN HARMONISTS in cabarets, concerts and gala events and is a worthy successor of their historic predecessor, developing its own stage concepts and proposing new music arrangements.

 The evergreens "Mein kleiner grüner Kaktus", "Veronika, der Lenz ist da", "Wochenend und Sonnenschein", and other songs from the COMEDIAN HARMONISTS' early repertory in German, are central and present in all concerts. During Sommarmusic Lundsberg 2023 THE REAL COMEDIAN HARMONISTS will include some of their predecessors' later repertory in English. The tenor Loïc Schlentz, who performed in concerts during Sommarmusic Lundsberg 2022, has invited his colleagues to a longer WORKSHOP at Lundsberg to rehearse this new repertory for the CLOSING CONCERT.
THE REAL COMEDIAN HARMONISTS released their first CD in 2021. It contains traditional children's lullabies and good night songs.